Hostel Infrastructure & Facilities
The Madras Christian college school hostel caters to the needs of students from different parts of the world. It has been serving the student community for several years. The hostel student community is cosmopolitan in nature. Different activities and programmes are organized to make hostel life more interesting and meaningful. The overall development gained by the children enables them to face the world later,with courage and confidence.The hostel pupils are expected to observe the rules and regulations of the hostel.These rules have been framed,having in mind that obedience is the first step to progress.Life in the hostel can be pleasant and enjoyable if each student is prepared to co-operate and make the necessary adjustments.The hostel is not a place where the personal demands of students can be satisfied.All the necessary and facilities have been provided to make the hostel an enjoyable place to live in.The rules and regulations that are mentioned here in this prospectus must be obeyed. All other instructions that will be issued during the course of academic year must also be followed.
There are Three hostels namely:
Junior Hostel for students of stds 6,7 and 8
Senior Hostel for students of std 9 and 10
Super senior Hostel for students of Std 11 and 12(Kuruvila Hostel)
Wardens
A highly qualified teachers work as wardens in the hostel.They look after the hostellers,organize activities,help the boys in their studies and conduct UNIT TESTS every week. A Qualified physical education teacher is in charge of games activities. The Hostel superintendent, Dr.G.J.Manohar lives in the Junior Hostel building.
Physical Education Activities
The morning session of physical training is compulsory for all hostellers on all days except on Sundays and examination days.
All hostellers must play outdoor games in the evening on all working days except exam days.
The hostel games uniform must be worn during morning Physical training session and evening games session.
Boots or sneakers must be worn for the morning
Physical training session and evening games
hostellers should not play games immediately after breakfast or during the lunch interval
Outdoor games must be played only in the play field.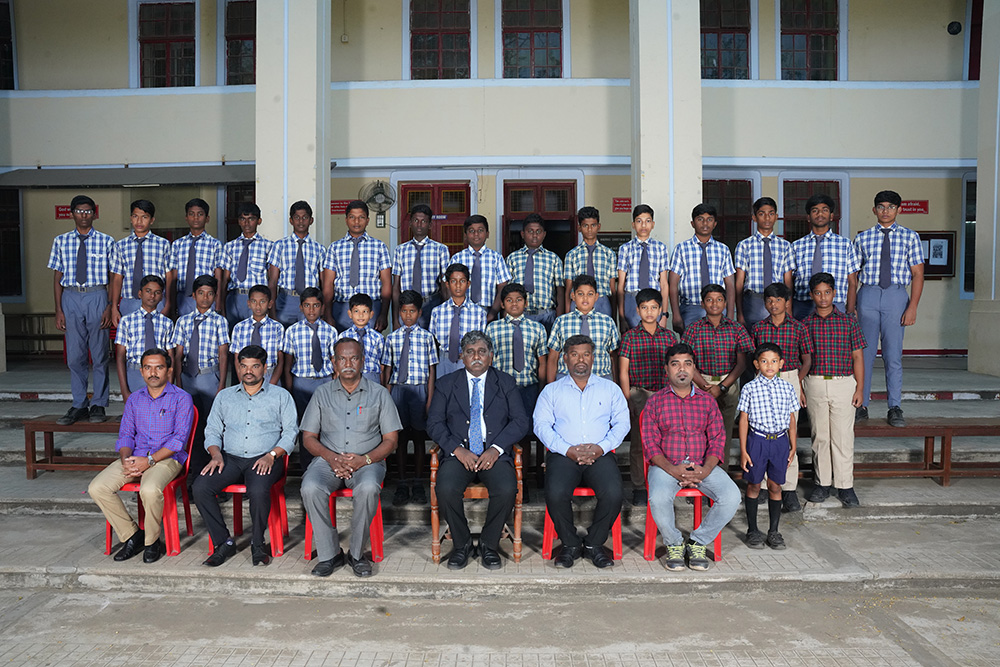 Hostel Time Table
| | |
| --- | --- |
| Wake up | 5.00am |
| Jogging | 5.15am to 5.30am |
| Bathing | 5.30am to 6.15am |
| Coffee | 6.15am to 6.25am |
| Study I | 6.30am to 7.30am |
| Morning Assembly | 7.40am |