School Band
This band is a group consisting of instrumental musicians who perform for all programmes. This unit incites musical talents in the students. MCC school Band has a reputed recognition in Chennai. The band also has the privilege Of playing at all government function and festivals.
Teachers-in-charge:
1. Mr.D.Barnabas | 2. Mr.Daison Sam
National Service Scheme
We have an effervescent NSS unit in which Higher Secondary students are enrolled. The NSS create an awareness among the students on the values of social service and their role and responsibility evolved a cordial society.
Teachers-in-charge:
Mr. A.R. Daniel Jeyaseelan,- Programme Officer
Mr. D. BalasingDevadoss,- Asst. Programme Officer
Mr. M. Benedict,-Asst, Programme Officer
Road Safety Patrol
RSP ensures an accident free life. The twin objectives of RSP is prevention and reduction of accidents as their motto is "We Live to Serve". The RSP cadets are also trained to regulate traffic during the morning hours.
Teachers-in-charge:
Mr. M. Karthik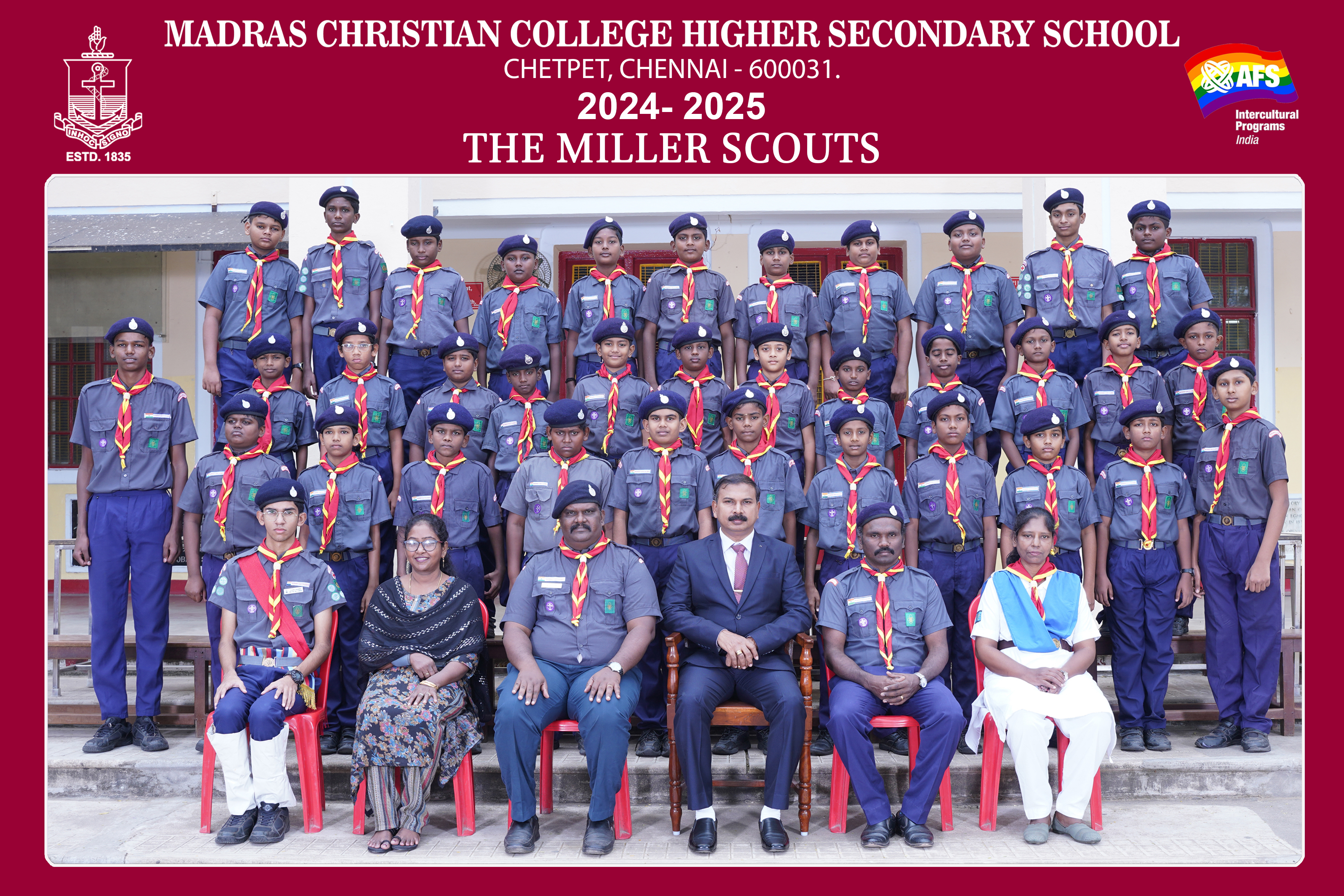 The Miller Guides and scouts
This unit builds self confidence in students to be better individuals and play a constructive role in society as their motto is "Be Prepared".
Teachers-in-charge:
Mrs. E. Helena Sardonyx
Mr. David Raja
Mrs. Blessy Yaheal
Junior Red Cross
It encourages interested students to love and serve others as their motto is
"I Serve"
with three principles such as
Help/Serve/Friendship.
The school JRC educate the children on value of life and health.It provides activities related to protection of life and health, volunteer services during disaster and also disaster management.
Teachers-in-charge:
Mr.P.Nelson
Mrs.R.Subhadra
---